April 1st, 2014
Well, March came and it went and finally it is beginning to feel like Spring.  We have been really busy.  God has given us so many opportunities to lead worship so far this year.  We are also working hard at school.   There comes a time in Spring when a homeschool mom sees the light at the end of the tunnel.  We are working hard to get to "summer break".   I don't have a specific date in mind yet, but I am looking forward to it.  It has been a trying time teaching the girls this year.  Honestly there are times I want to quit.  Sometimes I feel like this…….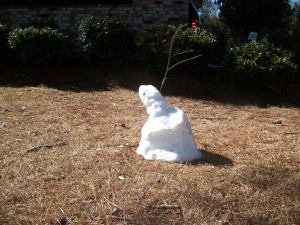 ……..like our poor little snowman melting away.  I feel like I am done…..like there is not a lot left for me to give.   But then the Lord says this……
In every thing give thanks: for this is the will of God in Christ Jesus concerning you.  1 Thessalonians 5:18 
There may be a lot of things I am not sure about, sometimes we struggle to find "God's plan".  There may be a lot of questions but this is God's plan, to be thankful in all things.  So I am thankful.
I am thankful that I get to see my girls all day long.  I don't miss a thing.
I am thankful that we can wrap up school work and get out and do something together.
I am thankful for my husband and his flexible schedule.  He is able to help me so much.
I am thankful for coffee.
I am thankful that we are home and can have snacks like this.  (Simple yummy snack idea:  Put ritz crackers with marshmallow on top in oven for a few minutes.  Put peanut butter or nutella on another cracker and put on top as soon as you take it out of the oven.)  Messy but so good.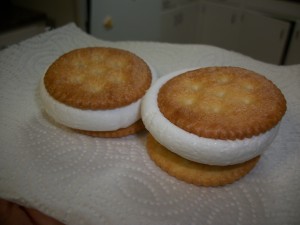 Sometimes you have to look beyond "your bad day"  to be thankful, but it is not just a suggestion.  It is in the Word and I believe it does make a difference.  I will choose to be thankful, even in the hardest of days.
……for I have learned to be content whatever the circumstances.  Philippians 4:11
Oh give thanks to the Lord, for he is good, for his steadfast love endures forever!  Psalm 107:1
Giving thanks always and for everything to God the Father in the name of our Lord Jesus Christ.  Ephesians 5:20
And let the peace of Christ rule in your hearts, to which indeed you were called in one body. And be thankful.    Colossians 3:15