Make It Yourself Monday: Decorating on a Budget
Today I am borrowing an idea from my friend Mississippi Mom to write a "Make it Yourself" post, since I actually made something.  We have been sprucing up the place a bit this summer.  We removed our ugly, worn out, disgusting carpet and replaced it with vinyl planks.  We love it.  We put new colors on the walls and we also loved that.  After painting the kitchen a caramel color with dark brown trim and giving the cabinets a fresh coat of white, we were left with these ugly pink counter-tops.  What to do with them?  Well, new counter-tops were not really in the budget (we are cheap) so we started looking online for ideas. We found this.  We decided to try it.  I mean, what could it hurt right. 
We taped off all the counters (I hate painters tape, it works sometimes, but be sure to use a sharp knife or razor blade to cut around the tape or some paint may pull up).  This is what the counter-tops looked like before.  This picture is not the best.  THEY WERE PINK, I tell you, PINK!!!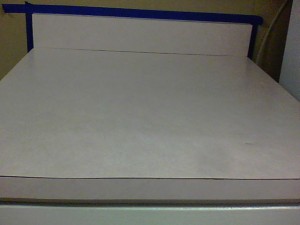 We started with two coats of dark brown paint.  We used what was left over from painting the trim in the kitchen, so no cost there!  After the base coat, it already looked better and I was getting excited!
I don't have pictures of all the steps, but after the base coat dried, we used a paper towel (wadded up) and sponged the surface with the caramel color paint we had left from the walls.  After that dried we added black and a little (very little) gold yellow color (craft paint I already had).  We did one color at a time and then went back with the caramel color to kind of even it out.  You can use any colors you want, if you see you don't like it, you can cover it up with your next color.  I did a test run on poster board, just to get the feel of the paint on the paper towels.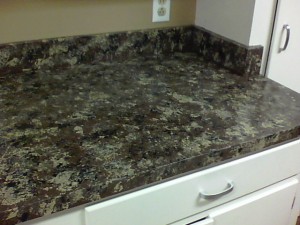 This is basically the finished product.  After the paint, we used a quart of polyacrylic to top it off (letting each coat dry).  It has been a few weeks and they are holding up well.  I am careful with the surface, with cutting and hot dishes, but I am sure I would do that with "nice counter-tops" too.  I am not a person that has to have granite and stainless steal appliances to make me happy with my kitchen ( I watch HGTV a lot and I just roll my eyes at people looking at a house and they say "I HAVE to have my granite or marble or whatever").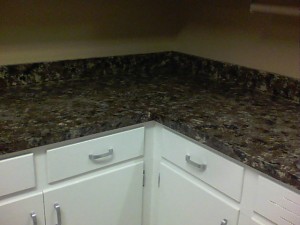 I also made these curtains for the kitchen.  I am sure you could find instructions online but it is basically folding and hemming.  I knew from the beginning I wanted a shade of red and I actually found this flat twin sheet at Walmart for $4 (score!).   I added the ribbon to bring in colors of place mats I found on clearance at Kirklands (another score)!!!  I had lots of material left over I can use for blocks in a baby quilt or something else.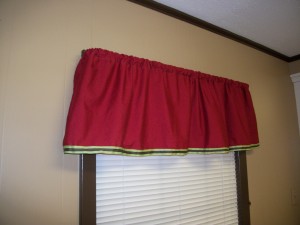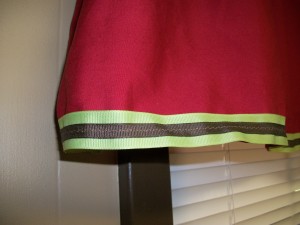 We have been blessed.  God always takes care of us and I feel we need to be careful with what He has given us.   I believe we should work to make our homes a  beautiful place for us, but we must we careful to find the best way.  You can always find ways to save money.  Research and be paitient, praying for God's will.  The very thing you are looking for may go on sale, our flooring did. 
So if you have not been trustworthy in handling worldly wealth, who will trust you with true riches? Luke 16:11
Commit your work to the Lord,  and your plans will be established.  Proverbs 16:3
 For which of you, desiring to build a tower, does not first sit down and count the cost, whether he has enough to complete it? Luke 14:28
Whatever you do, work heartily, as for the Lord and not for men. Colossians 3:23
Each one should us whatever gift he has recieved to serve one another. I Peter 4:10