This Generation
Teens today are often referred to as spoiled, lazy or unconcerned.  They have been called the selfish generation.  I hear the complaints and I have complained myself.  I live with a teenager and an almost-teenager (if that is not a word, I just made it one).  I know they can be really annoying and they can indeed be selfish.  Sometimes they don't clean their rooms, they roll their eyes and can be really disrespectful.  But on the flip side, if you look very closely at this generation of teenagers,  you will find something amazing.
We are blessed to meet so many young people that are living their lives for Christ.  A few weeks ago, we led worship at a "Fields of Faith" event.  This event was planned by the FCA (Fellowship of Christian Athletes) of Puckett High School.  We happen to know the young lady very well that worked so hard to make this event happen.  Seeing teenagers that will speak out for Jesus today is awesome because it is getting harder and harder for Christians to have a voice in our schools.   Yes, there are laws and all kind of rules, but young Christians today are standing up in their schools.  As long as there are students like them, prayer will always be in the school and God will never be shut out.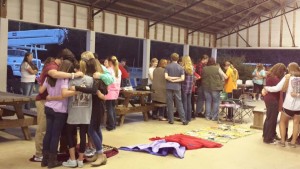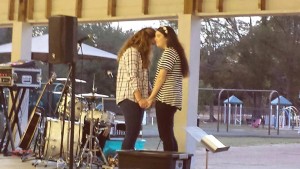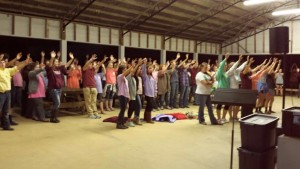 Another event that we have been a part of is "See You at the Pole".  This is also a student led event that includes everyone gathering to pray for the schools.  Nolan was able to lead a SYATP at a school in Florence, Ms.  This year several students from Magee High School planned a night of worship to be held the night before SYATP.  Alexis was able to be a part of this event.  Many people have so many negative things to say about our public schools but they are not seeing what we see.
Students today have so many ways to communicate that I didn't have as a teenager.  Although many are using social media as a negative thing, social media is also being used to encourage others and share faith.  Many teenagers are also writing blogs that are changing lives and challenging others to live for Christ.
Alexis has written her first blog and it is so relevant for today.  This is what we have been praying over her since her birth.  We have asked God to give her a passion to follow Him no matter what.  We are so proud of Alexis.  She is really seeking God in her life.  Please follow this link to read her first blog post.
https://livesentblog.wordpress.com/
Also check out these blogs by other students from our youth group.
https://lifefullofchrist.wordpress.com/   ( This blog is written by a college student that is very bold about speaking up about God's plan for girls today.  I love what she has to say about modesty, purity and dating)
https://dianahollandblog.wordpress.com/
https://alliejobristerwordpresscom.wordpress.com/
I am proud of this generation.  Even with all the bad news and evil in the world today, this generation is rising up.  I truly believe this is the generation that God will use to start a great revival, turning this country to Him.
Who may ascend the mountain of the Lord? Who may stand in his holy place?  The one who has clean hands and a pure heart, who does not trust in an idol or swear by a false god.  They will receive blessing from the Lord and vindication from God their Savior.  Such is the generation of those who seek him,  who seek your face, God of Jacob.  Psalm 24:3-6 (NIV)
I love verses 5 and 6 out of the Message…….
God is at their side; with God's help they make it. This, Jacob, is what happens to God-seekers, God-questers. Psalm 24:5-6 (MSG)
God-seekers and God-questers….with God's help they make it!  They make it happen.  God is working in this generation and I cannot wait to see what He has in store for the ones willing to stand up and follow Him.