Mercy Rain
Mercy turned twelve in September and we celebrated with confetti cake (directions at bottom of post), a family lunch, and a day of shopping.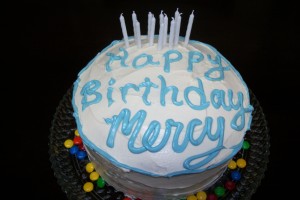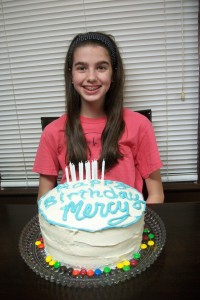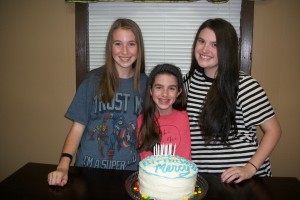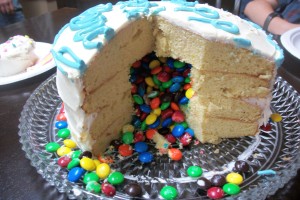 When Alexis turned twelve, she got a mother/daughter shopping trip. So Mercy got one this year too. We had a great time together. The best part being that we skipped school. We shopped, had lunch, and stopped off at Starbucks. I love coffee but Mercy hasn't developed the love yet, so she got a cookie.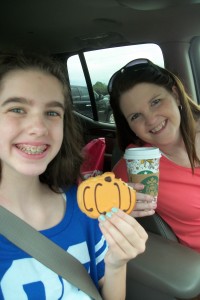 When we arrived back in town, we had a dinner at our favorite Mexican restaurant.  Mercy had made us promise not to tell that it was her birthday, but luckily a friend from church was there and spilled the beans.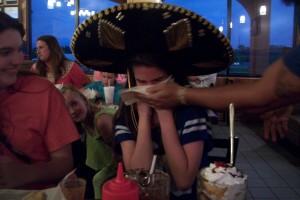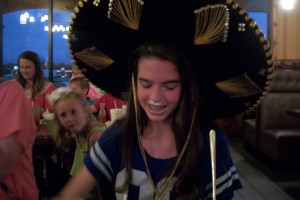 We are so thankful to have Mercy in our lives.
*Directions for confetti cake:  I found some ideas online and tweaked different ones I found.  First make four nine-inch round cakes.  That will take two cake mixes, unless you make everything from scratch and then I have no clue. 😉  After the cakes are completely cool, trim and stack three layers.  If you don't trim the tops off the cakes, they will break when you stack them.  Cut a whole in the middle of the three layers.  Fill with candy (we used m&m's) and place fourth layer on top and ice the cake as you wish.  Do not ice the cake between the layers.  After about the second slice, the candy should come pouring out.  This cake was so fun to make and eat! 🙂