Another Update
Our student ministry always ends out summer and starts a new school year off with Connection Weekend.  This year Connect was held at Timber Creek.  It is a beautiful place.  We had a great weekend focusing on who we are in Christ.  This weekend held a special milestone for my girls, as it was Mercy's first Connection Weekend as a seventh grader and Alexis's last as a senior in high school.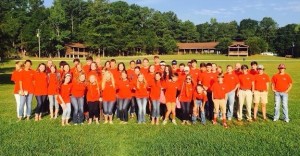 One thing that we did differently this year was having separate sessions for the boys and girls.  A wonderful young lady from Mississippi College came and shared her heart with the girls.  She truly poured into them the importance of finding their true identity in who Christ made them to be.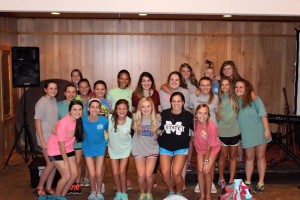 On Saturday afternoon,  we had "messy games".  All grades had a color.  I almost wanted to cry when I saw Alexis in her "senior" shirt.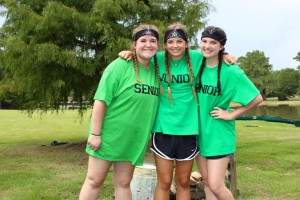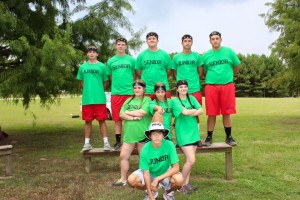 Then it was time for school to start,  Mercy is in seventh grade……..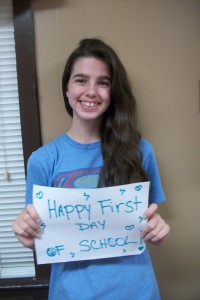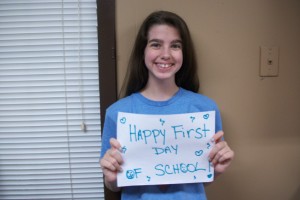 And (believe it or not)…..Alexis is a senior and she is also taking two classes at our local community college.  On Alexis's first day of school, she was awakened with a special breakfast.
I cannot believe this is Alexis's last year of high school.  I wouldn't trade homeschooling her for anything.  My only regret is that it went by so fast and of course I could not control that.  I know God has special plans for Alexis and her future.  I would not keep her from growing up and following God's path.
How did it get so late so soon? Its night before its afternoon. December is here before its June. My goodness how the time has flewn. How did it get so late so soon?   Dr. Seuss
 Don't cry because it's over. Smile because it happened.  Dr. Seuss
So teach us to number our days that we may get a heart of wisdom.  Psalm 90:12
The heart of man plans his way, but the Lord establishes his steps.   Proverbs 16:9
For I know the plans I have for you, declares the Lord, plans for welfare and not for evil, to give you a future and a hope.   Jeremiah 29:11