Weeks Like That
It was the week after Easter and it was supposed to be great.  Why?  Well, just because it was. We had just celebrated what our lives as Christians is all about.  There was to be no yelling.  Everyone would be kind and cooperate to the best of their abilities.  School would be peaceful.  Everyone would work extra hard to finish up these last few weeks.  That was wishful thinking.  This week or really no week really looks like that.  In a week like that, bad things go down.  You know those weeks, you just want a do-over.  Everything seems to go wrong.
The Oldest Child had been holding her learners permit for a year, she had been counting the days.  She even had a countdown on her phone.  Tuesday was the day, the day she could go and take her driver's test.  Well, the night before it dawns on us…."Do we have everything we need for her to get her license?"  Yes, the night before……that is just how we are.  Last year we saved her application because they said she could just bring it back when she took her driver's test.  "Now, where did we put that form?", we say.    That problem was easily solved.  New forms were printed out, filled out and notarized the next day.   Okay, what else do we need?  SS card, check……birth certificate…….um???  Really, you say.  Yes, Really.  We could not find it anywhere.  We searched the house for two solid days, no birth certificate.  At first, everyone was fine.  Then there were outburst like, "What kind of mother loses her child's birth certificate?" Tears flowed, mainly from me.   What kind of mother ruins one of the most important events in a sixteen year old girl's life (at least she thinks it is)?   I guess that would be me …….. imperfect me, a mistake maker, a broken mess, that is who I am.  That is who we all are if we are honest.  Oh, of course I am not talking to you moms that have it all together, no not you!
So they head to the Vital Records Office to get new birth certificates, yes plural (in the search for one, we found we had misplaced several).  I know, Mother of the Year is heading my way soon, said NO ONE!!!!  So everything is fixed now, right?  Well, then it decided to rain everyday!  I really can't be blamed for that (she tried though).  Finally, a whole seven days after the day she was originally planning, she woke up at 6 a.m., watched the weather and pulled her dad out of bed to catch a dry window to take her driver's test.
And she came home a licensed driver.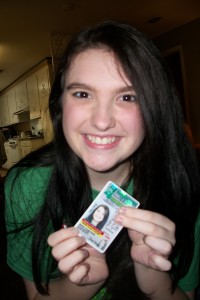 And then she would speak to me again and she asked us when we would buy her a car……….Oh, the joys of motherhood and life!
Be thankful in all circumstances, for this is God's will for you who belong to Christ Jesus.  1 Thessalonians 5:18

There is a time for everything, and a season for every activity under the heavens:  Ecclesiastes 3:1