September Update
We just finished our sixth week of school and it is going by so fast.  We are having good days, as well as bad but we are surviving and even thriving at times.  These pictures are from the third day of school, because that is just how we roll.  We take "Third Day of School" pictures instead of first.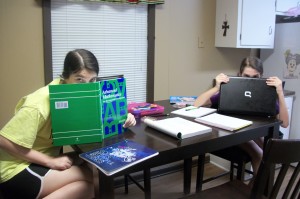 We were blessed to be a part of two events at our church that kicked the school year off to a great start.  The children had a "Back to School"  night.  We had a great group of children to worship with.  The night was also full of games, Bible stories and food.  It was awesome to see  girls from our youth group step up to be great leaders at this event.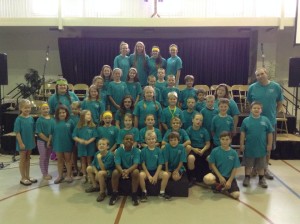 Then our student ministry had Connection Weekend.  This is a yearly event held in August that kicks off our small groups for the year.  This year the weekend was held at Timber Creek.  It is a beautiful place and the weekend was truly amazing.  God worked in a great way.  Our speaker for the weekend was Casey Williams from FBC Jackson.  On Saturday night the worship was so real and authentic.   You could feel God's spirit moving in everyone there.  On Sunday morning we returned to Magee to worship with our church family.  The students participated in worship with us and Casey brought another great message.  The theme for the weekend was "Better Together".
 So Christ himself gave the apostles, the prophets, the evangelists, the pastors and teachers,  to equip his people for works of service, so that the body of Christ may be built up  until we all reach unity in the faith and in the knowledge of the Son of God and become mature, attaining to the whole measure of the fullness of Christ.   Then we will no longer be infants, tossed back and forth by the waves, and blown here and there by every wind of teaching and by the cunning and craftiness of people in their deceitful scheming.  Instead, speaking the truth in love, we will grow to become in every respect the mature body of him who is the head, that is, Christ.  From him the whole body, joined and held together by every supporting ligament, grows and builds itself up in love, as each part does its work.  Ephesians 4:11-16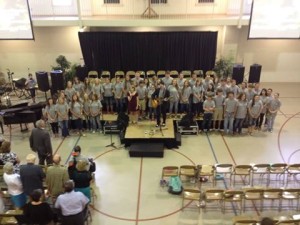 Here are a few pictures of what school looks like around here (minus the crying, yelling, and rolling of the eyes).
We try to have some sort of art lesson once a week.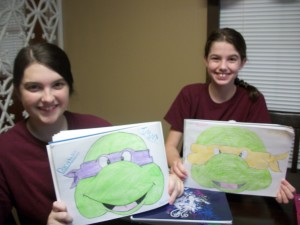 We sometimes will do a science experiment.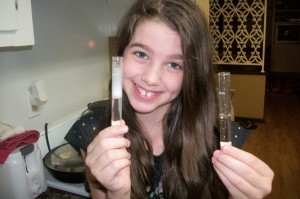 Sometimes  we kick them out of the house and make them live in a cardboard box in the yard.  Okay, not really but this box was fun.  We had to get a new refrigerator and this was another bonus, the first bonus being cold food.  🙂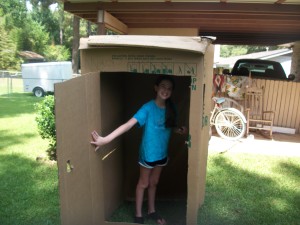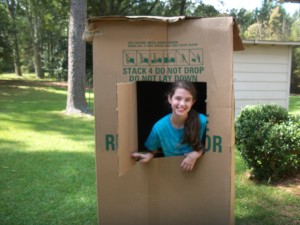 We have been meeting at the park with our homeschool group and this week we had a field trip to the alpaca farm. It was a fun day. The animals were so friendly; it might have been the food the children had for them but that is beside the point. We learned a lot about the animals and how they make yarn from the fiber. They sell many things that they make from the fiber. We were able to make something ourselves also. We made a soap loofa out of the alpaca fiber. Everyone seemed to enjoy the trip. I know my family enjoyed getting away from the books for the day.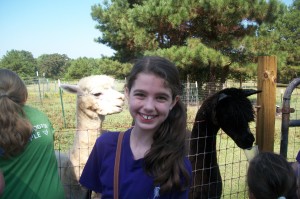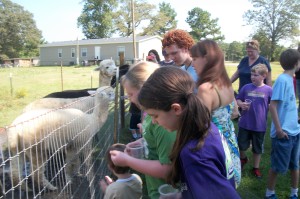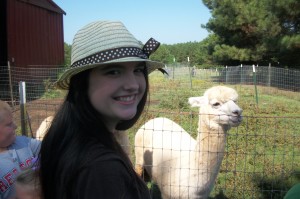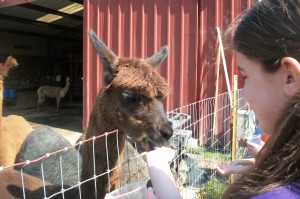 Sometimes homeschooling can be such a challenge. I want to quit, say enough. Sometimes parenting is like that too. Sometimes I have just had it. But……then there is this. These sweet little surprises. This was a note left by Mercy in my NOOK because she knows I open it first thing in the morning to read the Bible. Side note: Yes, she knows how to spell.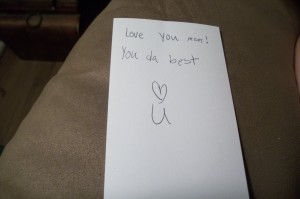 I should have a lot to share in the coming weeks. We have many opportunities to lead worship as a family coming up. Please pray for these upcoming events.
September 20 at 5:30……Salem Baptist Church Raleigh, MS
September 21 at 6:00……Montgomery Baptist Church Summit, MS
Sept 28-Oct 1…………..Oakview Baptist Church Terry, MS
Oct. 5-Oct 8……………Truit Memorial Baptist Pearl, MS
For from him and through him and to him are all things. To him be glory forever. Amen.  Romans 11:36