Life Camp 2014: Mission Arlington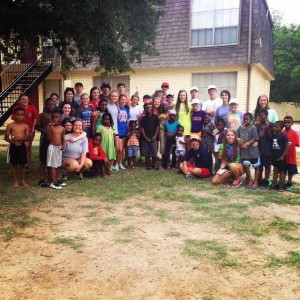 Three years ago we had an opportunity to lead worship for a group that traveled to Arlington, Texas for their youth summer camp.  It was then that we were introduced to the ministry of Mission Arlington.  Over 800 people walk through the doors of this ministry everyday.  They have clinics, food pantry, and clothes closet.  They  have Bible studies and worship at over 300 locations on Sundays and backyard Bible clubs all summer long at apartment complexes.  Please visit their website to learn more about this ministry. (www.missionarlington.org)  You can also follow them on Facebook.
We were excited to have the opportunity to return to Arlington with the students and leaders from First Baptist Magee as part of LifeCamp 2014.  After arriving in town on Thursday afternoon, we went to the mission to pray with Ms. Tillie, the mission director.  We then gathered at the church we were staying in to worship together and share our vision for the weekend.
Friday morning we loaded the bus to head to a local apartment to hand out food and minister to the children.  They call this Rainbow Express, it is basically Bible school or backyard Bible club.  The students went door to door and invited children to come.  We had a great turn out and it was so exciting to see our students love on these children.  They divided into groups and told them a Bible story.  Then we played games with them.  We all left so excited about what God was doing there.  A new group is there this week doing the same thing.  These children are learning about Jesus and His love for them.  It is a beautiful thing.
Friday afternoon we had a fun time at Six Flags.  This was a time for the students to enjoy each other and the friendships they share.  Saturday morning our groups split up to go to two apartments.  We also had a group of boys that helped someone move into a new apartment.   We did basically the same thing as Friday but it was a lot different.  The group we went with did not have a lot of response, only three girls came to gather with us.  There was one other boy but I think he just wanted the Rice Krispy treats. 🙂  One of  the girls was really rude to us and needless to say, our students were disappointed with how it went.  This was a true lesson in the ups and downs in ministry.  I had to remind them that we have this promise from God in Isaiah.
"For my thoughts are not your thoughts, neither are your ways my ways," declares the Lord.  "As the heavens are higher than the earth,  so are my ways higher than your ways and my thoughts than your thoughts. As the rain and the snow come down from heaven, and do not return to it
without watering the earth and making it bud and flourish,  so that it yields seed for the sower and bread for the eater, so is my word that goes out from my mouth; It will not return to me empty, but will accomplish what I desire and achieve the purpose for which I sent it.  Isaiah 55:8-11
God's ways are not ours.  He sees the big picture and we only see one day.  We planted the seed, someone else will reap the harvest.  We may never know what happens to these girls but we can pray for them and trust God.  We have God's promise that His word will not return empty.  In His time it will achieve His purpose.
Saturday afternoon we worked at the mission.  One group cleaned the clinic while some picked up and delivered furniture donations.  I was with another group that worked organizing clothing donations.  Many stores donate new clothes and supplies to the ministry.  We  worked with these donations, mainly moving boxes to make space for school supplies that will be coming in soon.  The students stepped up and worked so hard.  We were all so proud of them.
When we returned to the church later that night, we had worship together.  This was a special time together that was led mainly by the students.  The student leaders for the weekend spoke to the group, then others were asked to share what they learned.  We also shared what God was teaching us about taking this home with us.  The next morning we were supposed to lead a time of worship at an apartment but it was raining very hard so we headed home.
This weekend was so great, although some things didn't go exactly as planned or as we wanted it.  God tells us to "give thanks in all circumstances" (1 Thessalonians 5:18).  There were many things I was so thankful for on this trip such as…….
1. A bus to travel on and our bus driver who became our friend
2. A place to sleep though it was small, we had a shelter that was more than many people have all of the time
3.  Students that worked so hard and still stepped up to do a little more
4.  Seeing the students and adult leaders enjoy each other and grow closer together
5.  Hearing them say, "We can do this in Magee".  Yes, they are getting it!
6.  Stopping at the Louisiana Welcome Center and worshipping together at picnic tables
7.  Seeing adults that pour their lives into students because they care so much.
8.  The smiles on the children's faces and the even bigger smiles on our student's faces
9.  Seeing them huddle up on the bus to talk about what God was teaching them
10.  The looks on their faces when we stopped at Duck Commander on the way home.  It was closed but they were so happy to get their picture taken in front of that sign. 🙂
God has given the vision.  Now we will see what happens.   Ms. Tillie had a choice when she returned from foreign missions and knew God wanted her to do something in her city.  God is using her to change Arlington and God can use us to change Magee.  God can use you to change your town.  We have the choice now.  We can say yes to God or we can go back to our normal lives.  What will we do?
 But you will receive power when the Holy Spirit comes on you; and you will be my witnesses in Jerusalem, and in all Judea and Samaria, and to the ends of the earth.  Act 1:8