Because It is Wednesday
It is Wednesday. Some call it hump-day. Some call it a half-way point.  In Calico Rock, Arkansas at First Baptist Church, they call it WASH (Wednesday After School Happenings) day. They have been working on it all day, preparing and praying for the children that will climb off buses like this one.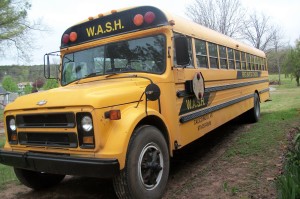 These children (about one hundred of them) will be picked up after school. They will have a snack, play outside, have help with homework, and sing songs. They will be loved and hear about the love of Jesus.  They stay all afternoon.  The majority of them stay for supper and Wednesday night activities.  Then they load up on the buses and are all taken to their homes, some close and some very far away.
We had an opportunity to spend one afternoon at WASH.  We watched them play and go through all their activities.  We led them in some fun songs and Nolan shared a message with them about God's light in us.  We did it for one day.  These tireless leaders do it every Wednesday.  They give their all for these kids and this special afternoon.
But Why?  Why does this church do this?  Why do these adults work so hard for these kids?
They said yes.  God put this on someone's heart;  He said, "Do This."  They responded with "yes", not a list of excuses and reasons not to do it.  They said yes.  They said yes to all the time it would take.  They said yes to the head aches and heart aches.   Sometimes the kids misbehave.  Sometimes they don't listen.  Sometimes they may think they are not making a difference at all…..But they are!
They are loving children, God's children.  They are showing these children that someone loves them.  By doing this they are showing's God's love.  You see, most of these children come from broken homes.  They are dealing with things that some of us cannot even imagine.  They feel unloved and forgotten but not on Wednesdays.  On Wednesdays, they are loved.  They may not realize it right now but seeds are being planted in the hearts of these children.  These seeds will grow and one day the fruit will be seen.
Someone said yes to God.  Someone said yes to God's word.
A new command I give you: Love one another. As I have loved you, so you must love one another.  By this everyone will know that you are my disciples, if you love one another."  John 13:34-35
Each of you should use whatever gift you have received to serve others, as faithful stewards of God's grace in its various forms.  If anyone speaks, they should do so as one who speaks the very words of God. If anyone serves, they should do so with the strength God provides, so that in all things God may be praised through Jesus Christ. To him be the glory and the power for ever and ever.  I Peter 4:10-11
 In everything I did, I showed you that by this kind of hard work we must help the weak, remembering the words the Lord Jesus himself said: 'It is more blessed to give than to receive.' "  Acts 20:35
Dear children, let us not love with words or speech but with actions and in truth.  1 John 3:18
In the same way, let your light shine before others, that they may see your good deeds and glorify your Father in heaven.  Matthew 5:16
They said yes and they sow they seeds.  They have this promise.  God's will for all these children will be accomplished.  God has a plan and they are part of the story He is writing for them.
As the rain and the snow come down from heaven, and do not return to it without watering the earth and making it bud and flourish, so that it yields seed for the sower and bread for the eater,  so is my word that goes out from my mouth:  It will not return to me empty, but will accomplish what I desire and achieve the purpose for which I sent it.  Isaiah 55:10-11