April Update
This year has brought many opportunities for our family.  After the student weekend that I posted about previously, we were set to head to Arkansas.  I have never given my girls a break in the spring because we are usually so close to finishing up it just doesn't make sense.  The timing just worked out for us to take this week off so we had our first "spring break".  We decided to stay in the Memphis area for a few days and we had a great time.  We went to Graceland.  It was a very cold day so we picked an activity that would be indoors some.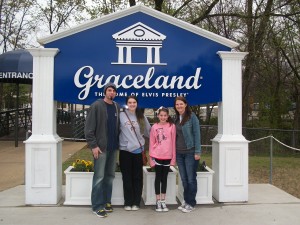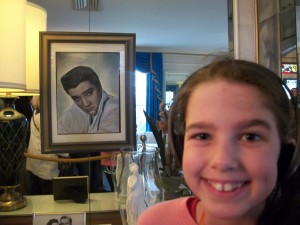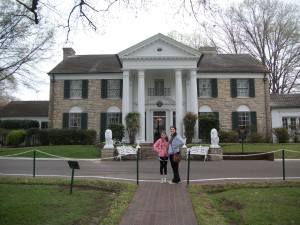 The hotel had an indoor pool and hot tub which was great.  It was great to be able to enjoy each other and relax a little.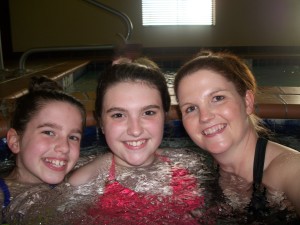 Also, another very exciting event was……..
.                                                          .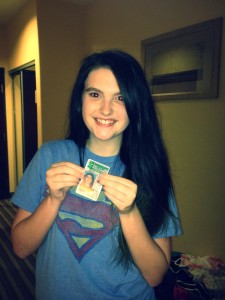 Alexis got her permit.  We are the parents of a driving teenager now.  All prayers are appreciated. 🙂  So after all that excitement, we headed to Arkansas to lead worship at several events and to visit with our family there.  Alexis and Mercy were so excited to get some time with their cousins.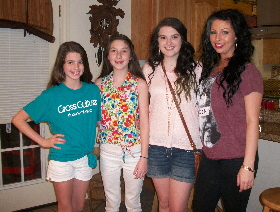 Alexis took this picture on the drive from Calico Rock, Arkansas to Mountain Home.  It is a beautiful place and it is quite.  Things seem to move at a slower pace there and we enjoyed the rest.
We led worship at FBC Calico Rock on Wednesday night. We had a youth rally at the high school and also led at another church in the area. We had such a great time. Every service was special in a different way, with different people to meet and worship with. It was great to see our family too.
We headed home on Monday morning, made a quick stop in Memphis, and came home to this.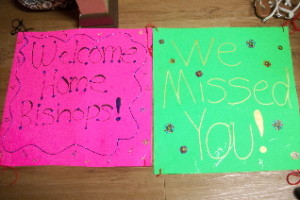 Our house had been decorated with signs and balloons welcoming us home. It is so good to know that we are loved and missed when we are gone.  We tried to get back into the swing of school work.  It was really hard after having a week off  (Probably the main reason we don't take spring break).   Then it was Easter weekend.  We led worship at a very special Good Friday service at Simpson Academy.  The students started the service by walking the cross up the hill to the school gym.  We had a time of worship and Nolan brought a great message.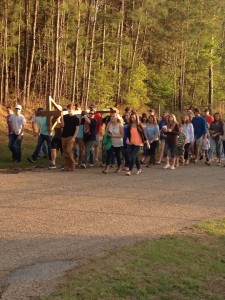 Then on Saturday our church had our second annual community Easter egg hunt. We had around 15,000 filled eggs waiting for the children and families that came. I love to see the children and youth from the church work so hard to make this event happen. It is fun and everyone gets to hear the story of Jesus and what Easter is all about.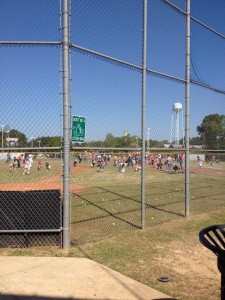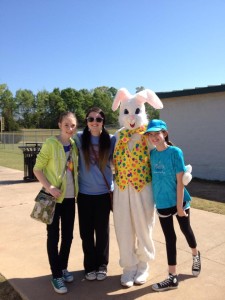 One more Easter picture…..my sweet girls after church.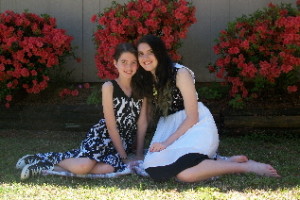 So then it was more school, getting ready for state Bible drills and a revival at First Baptist Church in Mount Olive, Mississippi which is right down the highway from our town. We had a wonderful time with the people there. Unfortunately, we had bad weather two nights with tornadoes hitting many towns in the state. Our prayers go out to everyone affected by this storm.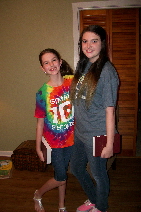 May is here and we are now in our last week of school. We are so thankful for the way God has blessed our family.