Surrender: Student Impact Weekend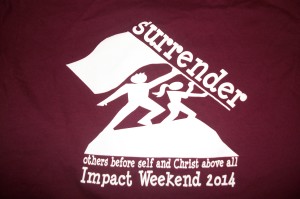 April started with a trip to Horn Lake, Ms. for Student Impact Weekend. We have led worship at SIW many times, but every trip is different and  proves to be a wonderful experience. We love this church, their youth minister, his family and the students here.  Some of the students we have come to know are now college students and every year we have new ones to meet.  They always bring in the best small group leaders and the speaker was actually someone we had never worked with before.  He is from Horn Lake and his name is Eric Payne.  He is now pastor of a church plant in Batesville.  Is was a blessing to work with him.  The Theme was "Surrender".  For sessions they used a video series by Francis Chan by the same name.  We have seen it before, but even the second time it was great.  We are called to surrender our lives, every part of it.  Many times we want to hang on the certain areas of our life, but that is not an option.  Complete surrender is what the Lord wants from us.
Do not be conformed to this world, but be transformed by the renewal of your mind, that by testing you may discern what is the will of God, what is good and acceptable and perfect.  Romans 12:2
Then Jesus told his disciples, "If anyone would come after me, let him deny himself and take up his cross and follow me. For whoever would save his life will lose it, but whoever loses his life for my sake will find it. For what will it profit a man if he gains the whole world and forfeits his soul? Or what shall a man give in return for his soul? For the Son of Man is going to come with his angels in the glory of his Father, and then he will repay each person according to what he has done.  Matthew 16:24-27
For you were bought with a price. So glorify God in your body.  1 Corinthians 6:20
 "Then the righteous will answer him, 'Lord, when did we see you hungry and feed you, or thirsty and give you something to drink?  When did we see you a stranger and invite you in, or needing clothes and clothe you?  When did we see you sick or in prison and go to visit you?' "The King will reply, 'Truly I tell you, whatever you did for one of the least of these brothers and sisters of mine, you did for me.'  Matthew 25:37-40
 Let each of you look not only to his own interests, but also to the interests of others.  Philippians 2:4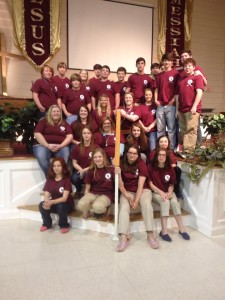 What would the world look like if we all truly surrendered?  If we all surrendered EVERY area of our lives to the Lord, everything would look so different.    If we surrendered our finances, there would be no one in need because everyone would give and take care of the needy.  If we surrendered our time, churches would not have to beg for volunteers and there would never be a lonely person because someone would visit them.  If we all surrendered our bodies, there would be no addictions of any kind.  If we all surrendered our "stuff" everyone would have enough.  If we all truly surrendered, everyone would hear the good news of Jesus because we would never stop until every last person knew of God's love, grace and mercy.  Oh, that we would all truly surrender:  Putting others before ourselves and Christ above all.